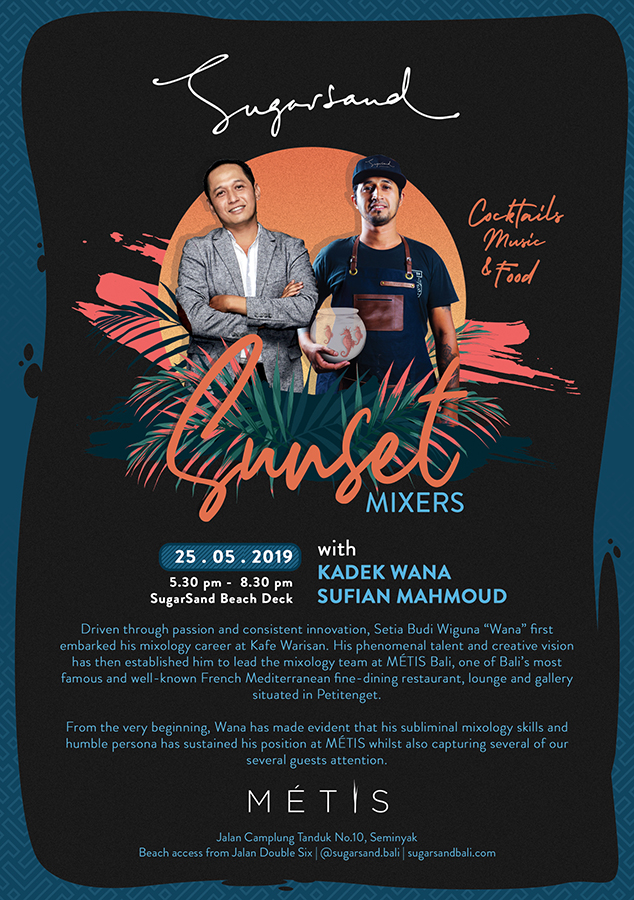 Sugarsand x Metis
"Sunset Mixers" with Kadek Wana (METIS) & Sufian Mahmoud (Sugarsand)

Cocktails, Music & Food


Driven through passion and consistent inoovation, Setia Budi Wiguna "Wana" first embarked his mixology career at Kafe Warisan. His phenomenal talent and creative vision has established him to lead the mixology team at METIS Bali, one of Bali's most famous and well-known French Mediterranean fine-dining restauratn, lounge and gallery situated in Petitenget.

From the very beginning, Wana has made evident that his subliminal mixology skills and humble persona has sustained his position at METIS whilst also capturing several of our several guests attention.
Saturday, 25th May 2019
5:30 PM - 8:30 PM
at Sugarsand Beach Deck



{{ event.datetime | datetime('date') }}
{{ event.title | multilang('en', false) }}
From {{ event.time | datetime('time') }}
{{ event.body | multilang('en', true) }}